If you have an iPhone, you may want to take a look at some of the income and expense apps that are available for download. There are many tools out there that can help you get organize and prepare essential financial information for yourself. If you feel like your budget is getting out of control, you will want to take some basic steps to get it back in to order again. Downloading these apps can be one of the best ways to make sure that you produce accurate records of your finances. Read through to find out some basic information about how you can get these apps for yourself.
Get Started Using Mint
First, you will want to take a look at the app known as Mint. This is a streamlined and well orchestrated application that will help you manage nearly all aspects of your finances. It will let you pool all of your available financial data in to one easy to use program. If you have outstanding credit card bills, this may be the best way to help organize what you might owe.
You may also be interested in getting help when you need to budget personal expenses that you deal with in your daily life. There are many people who need help with some of these every day details of their finances.
Find An Easy To Use App With BUDGT
You might also be interested in checking out BUDGT, which is very easy to use. Some people prefer using this app because it does not need to gain access to your financial records. You can simply download this program and get started soon.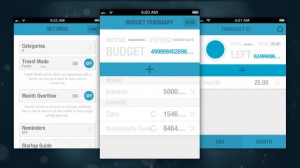 This app may work best for people who have already figured out what they may need to do to get their finances in order. But it is a very useful tool to determine whether you need to get another app to help get your situation in order. Think about combining some of these programs to manage your finances.
Plan Your Future Using Check
Then you might want to take a look at getting Check, which is an app that was previously known as Pageonce. If you haven't ever seen this application before, you might be interested to see what it can add to your financial planning.
This will be especially useful for anyone who may be looking to improve your credit score. It can provide you with fairly regular updates to what your credit score might currently be. This can give you an incentive to take action that will improve the score overtime.
Advanced Financial Help With Spendee
Finally, you may be looking for an app that can help you pay for some advanced financial planning issues. If you have debts or surety bonds, you may need occasional reminders of their terms.
Think about getting Spendee as your next financial planning application. You might be impressed by some of the results that you get from incorporating this application to your financial planning. You may want to experiment with some of these applications to find out which work best for your situation.