Microsoft unveiled a new email service yesterday (don't confuse this with an overhauling of Hotmail – I am talking about a brand new, from-scratch email service). Microsoft created Outlook.com to exists as a separate entity from Hotmail, particularly because Hotmail does not have the best reputation in the cyberworld. Thus, consider Outlook a straight-out challenge to Gmail.
The new service boasts a refreshing take on email with a clean and simple interface, no video advertisements and none of those annoying target-ads based on the messages you share with your friends and family (hallelujah!). For those of you wondering, "How does Microsoft know I am human, then?", the answer is: collaboration. Microsoft has partnered with social networks like Facebook, LinkedIn, and Twitter to access their user databases and confirm that a real person is making use of their new service.
As of now, Outlook.com is fair game to the public, and provides pretty much unlimited storage space as well as 7GB of SkyDrive space, provided you create a new Microsoft account.
Take a look at just how clean Outlook is (courtesy of engadget.com):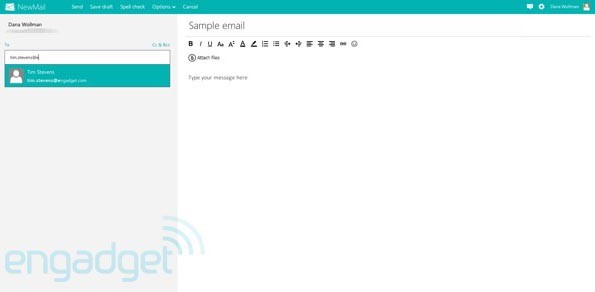 At first glance, how easy is it on the eye to view sans banners and flashy ads? I'd say, "very". And what you probably cannot detect at first glance, but certainly ads to its charm: the header is composed of 60 % fewer pixels than that found on Gmail's service, which leaves room for about 50% more emails per page.
The pane on the left side of the screen is where you will find your folders – which in this case are stacked on top of one another. Users can access "Quick Views" for honing in on particular types of emails, such as messages containing attachments – and if you prefer even more white space, you can collapse these menu trees as well. There is a search field on the left, too, for locating that email you sent months ago, and on the top of the screen, you'll find a higher-level menu which demonstrates Microsoft's minimalistic approach sublimely. From this menu, you can access your calendar, SkyDrive and People hub – each of which is concealed behind an arrow icon – and well… that's pretty much it. Unlike Gmail, you will not find a slew of other options conspicuously listed on the top of this page.
Social Network Included
In place of the targeted ads that we've grown accustomed to sneer at everytime we open our emails, Outlook has used the right-space to embed Facebook and Twitter into it, so you can glimpse at status updates from the person you are messaging – and you can even retweet someone right from this UI, without having to actually open Twitter or FB.
Ready for it? Here's How to get Started
If you've already got a Hotmail account, you can upgrade to Outlook by clicking Options in the upper-right corner, and choosing "Upgrade to Outlook.com" (Don't worry – if you don't like it, you can undo your decision and revert back to your old service.)
If you are transferring from another service (like Gmail, as Microsoft hopes), you can head directly to outlook.com and create an account. As well, you'll need to access your Gmail settings and set up forwarding, to incorporate all of your old stuff into the new service).
What Do You Get? Here's a List of (Some) Email Features Provided by the New Outlook
Handle junk mail and/or urgent items easily with "Schedule Cleanup" which will allow you to move or delete messages from specific senders, and instruct Outlook on what to do when more arrive from these senders.
Use the "Sweep" feature to organize your currently unwanted emails, like daily deals or newsletters. For instance, you may want to delete some altogether, but archive some for possible viewing at a later time. Or, have outlook shoot emails over into specified categories as created by you – for instance, command the service to send all emails from your still-obsessed Ex into an "Ex-boyfriend folder"- or delete them altogether. Whatever your choice, you can do it in "one fell 'Sweep'".
Skype. Yes, Outlook will have Skype built into it…while this service is not yet ready, be prepared for it, because it is just around the corner…(in the meantime, use Facebook Chat)
Mobile Access – as of now, there are no standalone mobile applications available for using Outlook, however, the company is working on this – so stay tuned to find out which apps will be the first on the scene.
Microsoft's minimalist approach to this new email service is going to be the alluring factor, for sure. Its UI is intuitive, polished, easy-to-use and a great vacation from the cluttery, ad-infested service provided by Gmail. Outlook is definitely worth giving a shot, especially since you can revert back to the days of old in a single click – but something tells me that the new service will have people hooked in no time.
Get ready to make the switch to Outlook by outfitting your computer, laptop and other email-accessing devices with warranties from CPS.