These days, smartphones are easily our most important devices. We use them as cameras, gaming platforms, music players, text-messengers, calculators, and — occasionally — as phones.
But what if they could do even more than that? What if our phones could act as full-on desktop computers?
That's the idea behind Microsoft's new Continuum app for Windows 10 phones, which debuts on Microsoft's new 5.2-inch Lumia 950 and 5.7-inch Lumia 950 XL handsets. Continuum allows you to plug your handset into a dock and monitor and then use it as though it were a PC.
But is the promise of turning your phone into a all-in-one device reason enough for you to ditch your iPhone or Android device for the AT&T-exclusive Lumia 950? My verdict after using the Lumia 950? Definitely maybe.
Note: Before we go any further, a quick point of order: Microsoft wasn't able to provide me with a Lumia 950 XL, which has a larger display and more powerful processor, so this review is based on the standard 950. It's worth pointing out, however, that the two phones share many of the same features.
Windows 10
Let's start off with the important stuff. The Lumia 950 and 950 XL are the first smartphones to come loaded with Microsoft's new Windows 10 operating system.
That doesn't mean, however, that you'll be met with the same Windows interface you see on your PC when you turn on the phone. In fact, Windows 10 on the Lumia phones looks pretty much identical to Microsoft's last-gen Windows Phone 8.1: You've got a similar looking home screen populated by live tiles; swiping to the right still brings you to your apps list; and swiping down from the top still brings up the Action Center quick-settings menu.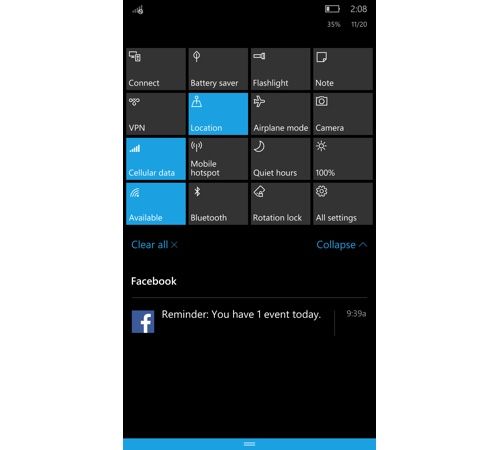 This time around, though, you can adjust the transparency of your live tiles, so you can actually see your home screen's background. The apps list now has a Recently Added section at the top to give you easy access to the latest apps you've downloaded. And the Action Center can be expanded to reveal a slew of new quick settings.
But Windows 10 for the phone isn't just a small refresh of Windows Phone 8.1 with an improved interface. There are a host of new features that make the OS far more attractive than its predecessor, chief among them the Continuum app.
Continuum
This is the feature that Microsoft is banking on to get people interested in Windows 10 smartphones. And it could represent the future of personal computing.
What is Continuum? Essentially, it's a way for you to use your smartphone like a Windows 10 PC.
To use the app, you have to connect your Lumia 950 or 950 XL to Microsoft's special Display Dock. When you connect the Lumia (along with a monitor, keyboard, and mouse) to the dock, your handset will begin running a desktop-like version of Windows 10.
At that point, you can do things like write Word documents, browse the Web via Microsoft's Edge browser, check your email, and create PowerPoint presentations. You can even watch HD videos, just like you would on your desktop computer.
What's more, you can do all of this while still being able to use your phone. It's incredibly impressive.
But just because it looks like you're running a Windows 10 PC from your phone, that doesn't mean you actually are. You're not going to be able to run apps in side-by-side windows, and don't even think about doing anything more complex than some light Web browsing or building Office documents.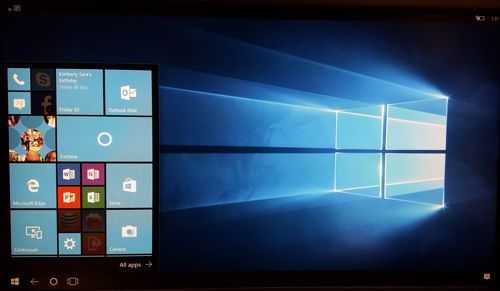 You're also severely limited in terms of the apps you can use with Continuum. That's because the only apps that work in desktop mode are Universal Windows Platform apps such as Office, Outlook, News, and Edge. That means you can't browse Facebook or Twitter, or even stream music via Spotify, in Continuum mode.
Microsoft, however, says developers are working to make their apps compatible with Continuum, so perhaps that mode won't feel so barren in a few months.
For now, though, Continuum is a pretty cool party trick. Being able to dock your smartphone and turn it into a PC-like device is helpful when it comes to working with Office docs, and should pique the interest of enterprise consumers and folks at home looking a no-frills, PC-ish experience.
But as smartphones increase in processing power, and as more developers make their apps Continuum-compatible, we could start to see smartphones replace in-office desktop computers. That's perhaps a long way off, but it could be where we're headed.
Windows Hello
In addition to Continuum, Windows 10 for phones also includes Microsoft's new Windows Hello sign-in feature. Rather than having to type in a PIN to unlock your phone, Windows Hello actually uses the Lumia 950's front camera to scan your irises to make sure that you are indeed you.
During my time with the 950, I found Windows Hello to be fairly responsive. It recognized me easily most of the time, though it did fail on occasion. When that happened, it asked me for my backup PIN.
The problem with the feature is that it couldn't see through my glasses. That means every time I wanted to use it, I had to lift up my specs then put them back on. That's not a huge problem, but it's nowhere near as convenient as a fingerprint reader, which I can use without actually having to look at my phone's camera.
I'd actually prefer it if Microsoft included both Windows Hello and a fingerprint reader, so I had more options to unlock my handset. Unfortunately, that's not the case.
Plastic and proud
Unlike comparable devices from Samsung, HTC, or Apple, the Lumia phones aren't wrapped in fancy metal bodies. Instead, they're all about that plastic.
The 950 and its big brother haven't changed much in terms of design from previous generations, either. If you've seen a Lumia phone before, the 950 and 950 XL will look very familiar.
The 5.2-inch Lumia 950 measures 5.7 x 2.9 x 0.32 inches and weighs 5.3 ounces. By comparison, Samsung's Galaxy S6, with its 5.1-inch display, is both thinner and lighter than the Lumia, as is Apple's 4.7-inch iPhone 6s.
That said, the Lumia 950 is $50 less expensive than both the Galaxy S6 and iPhone 6s (with a two-year contract).
One thing I do like about the Lumia 950's design is its dedicated camera button, which lets you both launch the camera app and fire off shots in a flash.
Display
If the Lumia 950 doesn't have the sleekest design, its screen makes up for it. At 5.2 inches, the 950's 2560 x 1440 pixel AMOLED display is gorgeous. The colors are vivid and seem to almost pop off the screen; blacks are as inky as can be.
The Samsung Galaxy S6's 5.1-inch display also uses AMOLED technology and has a similar resolution to the Lumia 950. But despite being a huge fan of the Samsung's screen, I actually favored the Lumia's; I felt it it offered more neutral colors, while the Galaxy S6 tended to skew blue.
The 4.7-inch Retina HD screen on the iPhone 6s has a lower resolution than the Lumia, but you'd be hard pressed to see the difference. The iPhone does, however, use LCD technology, so its colors aren't as vivid as those found on the Lumia or Galaxy S6.
Camera
If Lumia phones are known for any one feature, it's their camera. So it should come as no surprise that the Lumia 950's 20-megapixel shooter rivals the best smartphone cameras on the market.
I found that the Lumia 950 took better shots, in certain settings, than my Galaxy S6. In low-light settings, the Lumia 950's camera is fantastic, and it's more than capable of capturing fine details.
I did notice, however, that the phone had trouble balancing colors. In one photo in particular, the Lumia made spots on a banana look orange. Overall, though, you'll be more than satisfied with the 950's camera.
Performance
In order for the Lumia 950 to be able to split its time between being a smartphone and running a Windows 10-style desktop, it has to offer some serious performance. Fortunately, the Lumia 950 has that in spades.
It features a 6-core processor and 3GB of RAM, which is plenty for any apps you're going to use. But I was disappointed by how long it took for the 950 to boot up. I'm pretty sure that, from the time I pressed the power button to when the home screen finally appeared, I actually saw my fingernails grow.
I also experienced lag a number of times with Continuum mode, especially when using the Edge browser.
Beyond that, though, swiping between menus and opening and closing apps was smooth as silk. And the Lumia 950 XL — because it has a more powerful processor — should have less trouble with lag.
In terms of battery life, in my testing, the Lumia 950 lasted a full day on a single charge.
Apps
The long-standing problem for Microsoft smartphones has been a lack of apps. While Apple's iOS and Google's Android can run millions of apps from every major developer, Microsoft has struggled to get even a fraction of those offerings.
But over time, Microsoft has managed to bring more and more developers onboard. Now you can find most big-name apps — I'm talking about destinations like Facebook, Twitter, and Whatsapp — for the Microsoft platform.
That doesn't mean that Microsoft's app selection is on a par with Apple's or Google's, though. There are still significant holes in the app library, including offerings like Snapchat, MLB at Bat, certain mobile banking apps, and Lyft. And there's no sign of any of Google's apps, meaning no Google Maps, Hangouts, Google Drive, or YouTube.
In other words, though Microsoft has made significant progress when it comes to apps, it still has a long way to go.
The bottom line
With the Lumia 950 and Windows 10, Microsoft is not only trying to make itself a relevant player in the smartphone game, but to prove that a handset can be more than just something you browse Facebook and take selfies with.
On the first count, the company still falls short. Sure, the Lumia 950 is a capable smartphone with a great camera, but like all Windows phones before it, the 950 is held back by a woefully insufficient apps library.
As a smartphone-PC hybrid, the 950 is more of a proof-of-concept than a fully baked offering. Being able to edit Word documents, to check email, and to browse the Web in a Windows 10 desktop interface from a phone doesn't make the 950 a must-have, but it does give us a glimpse into the future of personal computing and consumer electronics.
For now, though, I can't recommend the Lumia 950 over something like the iPhone 6s or Galaxy S6.
Author: Daniel Howley
Source: Yahoo Tech