Since the birth of the Samsung Galaxy SIII about two months ago, I've read a varying spectrum of coverage regarding the new device – from how stellar it is to how sucky it is compared to the latest iPhone , and also how Samsung's projected sales are about 10 million units by the end of July, yet the phone is not yet available completely in the US due to overwhelming demand.The almost-totally released Samsung has even been the subject of a scorching scandal already, when a user in Dublin reported that the Galaxy burst into flames on his car's dashboard while he was driving.
Regardless of the speculation, however, here's what you can almost-certainly expect from the new Samsung Galaxy SIII by way of design and power:
A 4.8-inch HD Super AMOLED display, surrounded by a super-thin bezel to increase viewing area
A weight of about 4.7 ounces, a width of about 8.6 millimieters
Android's 4.0 Ice Cream Sandwich
4G LTE connectivity, 2GB RAM, 8 MP rear-facing camera as well as a 1.9 MP front-facing camera
NFC, Bluetooth 4.0, DLNA, WiFi 802.11 a/b/g/n, MHL Video Out
Cool features like AllShare Play, Group Cast, Share Shot
S Voice – a revolutionary new language recognition technology
The new flagship smartphone is jam-packed with good stuff – some apparent, some not so apparent. We at CPS have sought out some of the lesser-known capabilities of the new Samsung Galaxy SIII, and rounded five of them up for you right here:
Answer calls with the Home button
Okay, so this isn't a mind blowing function, but it sure is handy, and enabling it is easy. Just go to Settings > Accessibility > Call Answering/ending. Here, just choose to answer the bell with your Home button, and end them with the Power button.
Magically move from texting to talking in a jif
There is a Direct Call feature on this phone which enables users to being a call with a friend that he or she is currently texting to. All you have to do is stop texting, and hold the device up to your ear – et voila…the intelligent gadget will vibrate, and then place the call for you.
Enable Smart Stay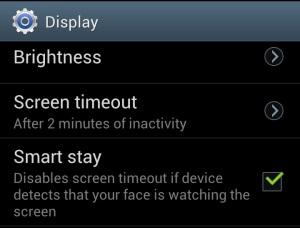 How much does it suck when you are enthralled in the middle of some good reading material – whether it be the news, a steamy email, or a mystery book – only do have the screen keep dimming on you every minute. With the new Samsung, you can give your device a virtual "Heel!" command by telling it to Stay. To do so, just so to Settings > Display and tap the checkbox by Smart Stay.
Swipe a screen-shot
If you're addicted to Damn You, Autocorrect, you're gonna love this feature. You can take a screen shot of whatever is on your screen at any given time by simply swiping the screen from left to right with the edge of your hand. You will hear a sound similar to a camera's shutter, which is your cue to save the screen shot as an image in your Gallery.
Multitask
This Samsung's new Pop Up Video feature allows you to watch a clip from the device's stock player while simultaneously toying around with other apps. All you have to do is go to the Video Player, choose what you want to watch, and tap the icon on the lower right. This will prompt a small screen to pop up which will feature your video. You can even reposition the box on your screen so that it doesn't interfere with whatever else it is you are doing.
Keep peeled to CPS for the latest updates on the Samsung Galaxy SIII – and count on us for providing you with the very best warranty for the device – and all of your treasured electronics.